Varieties of Wild Card Video Poker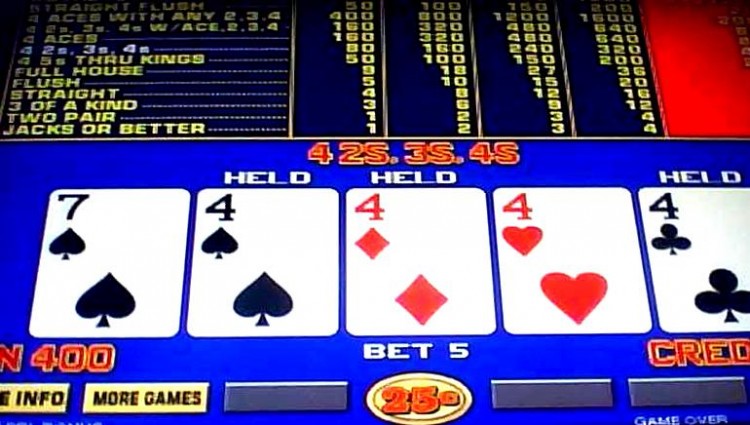 Different software providers have created a wide range of video poker games, which has aided in preventing player boredom caused by placing bets on the same game repeatedly. The variants help keep the games interesting with twists and turns that can bring out additional excitement for the average player. The most common variants tend to have wild cards that can serve as other cards, making higher poker payouts and hand rankings. Microgaming, for example, has a wide number of different variants in their list of games. These games can be found at many different Canadian online casinos, such as Roxy Palace.
Joker Poker

You play this variant with a deck of 53 cards. The additional card added to the deck is the Joker, which substitutes for any other card to create additional winning hands of higher ranks. Anytime you are dealt a joker card, the software automatically places the joker in a spot of its choosing before offering the appropriate payouts. The joker gives the player an upper hand on the game, so some rules have been changed to make up for the advantage. Payouts on the table start at Kings or better, rather than Jacks or better. The payout offers 1 coin per 1 coin bet. A natural royal flush awards 750:1 and the jackpot is 5,000 coins if you place a maximum coin bet.
Double Joker

Similar to Joker Poker, Double Joker Poker is another Microgaming-run casino video poker game. You are given a 54-card deck with two additional Joker cards. Double Joker grants a higher advantage than the previous game, so the payout table starts at two pairs instead of Kings or Better. With the two Joker cards, the chances of creating a high ranked hand is increased. Thus, the payouts are somewhat lower than in the similar video poker variant. Two pairs grants a 1:1 payout while the natural Royal Flush is 500:1. The jackpot is 4,000 coins when you set a maximum coin bet per payline (5).
Deuces Wild

In Deuces Wild, this game sets all the 2 cards to wild cards when they are needed, which gives you 4 wild cards in the deck. Your advantage is even higher, requiring the payout table to begin at 3 of a kind. The beginning payout is set to 1:1 payout, while the highest, the natural royal flush, is 250:1. The jackpot is set to 4,000 coins for anyone wagering with 5 coins per line.
Bonus Deuces Wild

Bonus Deuces Wild is extremely similar to Deuces Wild. The 4 deuces are set to wilds, but they are more random. High ranked hands have more frequent payouts, while these payouts have been decreased to make up for the additional wilds. A natural royal flush grants 800:1 and a 5,000 coin jackpot at 5 coins per line bet. Bonus Deuces Wild straight pays out 1:1 instead of 2:1.
Deuces and Joker Poker

This Microgaming video poker variant has 5 wild cards: the Joker card and the four 2s. It offers a "super jackpot" at 10,000 coins for drawing all 5 of these wild cards in a winning hand, as long as you have placed a bet of 5 coins per line.